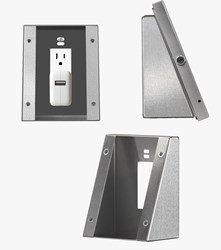 Salt Lake City, UT (PRWEB) January 29, 2014
ArmorActive designed the Wedge iPad wall mount for the end user and for their clients. The Wedge only protrudes 4 inches from the wall when an iPad enclosure is attached, minimizing obstruction of traffic for anyone walking by. This is especially beneficial to the visually impaired. Aside from being more space efficient, the Wedge is also designed with the optimal viewing angle for those in wheelchairs all the way up to the average american adult when mounted at the 48 ADA standard height.
We strive to meet the demands of our customer's needs with every new product we develop. The Wedge is a response to the increasing demand for ADA compliance in our iPad kiosk solutions, said ArmorActive CMO, Nick Ames.
The smaller form factor of the Wedge tablet wall mount compliments 7 inch tablets, which are gaining traction with consumers and businesses alike. Along with being smaller, the Wedge is exceptionally easy to install. The back of the mount has a rectangle cut out, specially designed to fit over a standard dual plug electrical outlet and securely fastens through the electrical outlet box or outlet itself. The cavity inside the mount has the capacity to house a small power adapter and charging cable. Alternatively, this space can be used to securely store an ArmorActive Power over Ethernet (PoE) adapter. ArmorActive offers the Wedge in powder coated satin black and brushed stainless steel.
ArmorActive has also updated the design of their Sentinel iPad stand floor kiosk to meet ADA requirements. This new version of the Sentinel meets ADA requirements by reducing the height from its predecessor, making it more accessible to those using wheelchairs.
ArmorActive will be featuring their new tablet kiosk products, as an exclusive partner with Mobile Technology, Inc. (MTI), at this years Euroshop in Dusseldorf, Germany, February 16-20th. The booth is Stand A40, located in Hall 6.
About ArmorActive

ArmorActive specializes in purpose-built solutions for deploying tablet computers into any business landscape. Our goal is to provide the highest quality of service to every customer with our team of account managers who understand every phase of a tablet deployment, no matter how large or small the scale of the project.